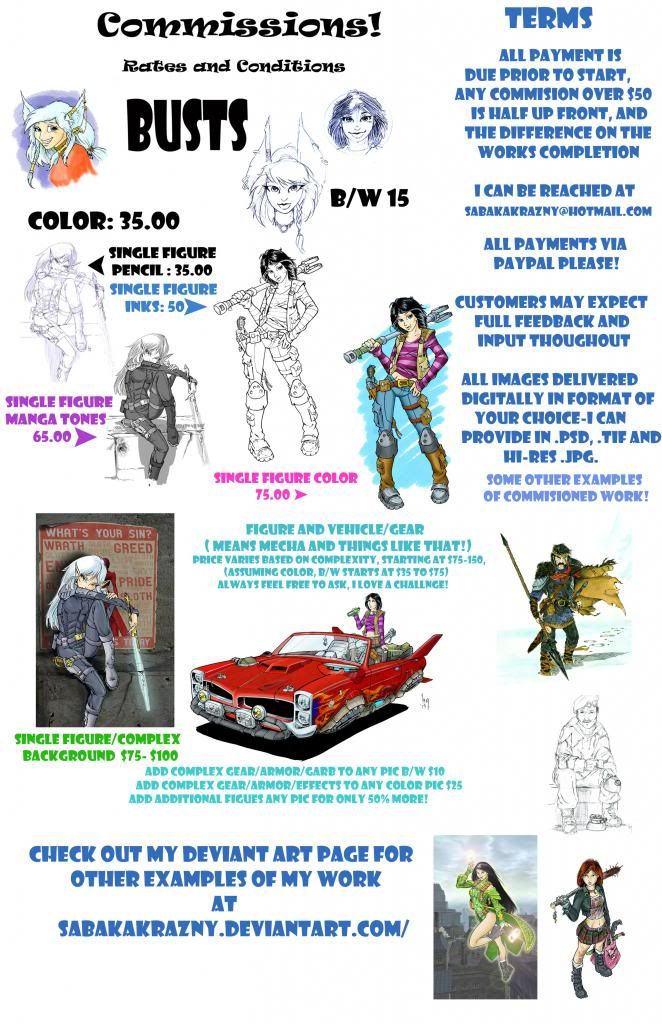 Some commissioned pics for folks here on these very boards!
I am now undertaking commissions. I have ten slots open on a first come first served basis.Delivery time will vary according to the needs of the piece, but I shoot for between two weeks and one month wherever possible.
You can reach me at
sabakakrazny@hotmail.com
or here via PMs.
How to get a commission:( stolen from Evion with permission!)
Shoot me an email with this info:
Forum name (I like to know who the email is from!)
Character Description:
Race:
Gender:
Hair (Style&Color):
Skin Color:
Eye Color:
Overall Physical Description: (aka, are they skinny? Muscular? Fat? Have any note-worthy features? The more info you give me to work from, the more accurate I can be!)
Brief personality description: (I like being able to express your character's unique personality in the portrait, if I'm able to!)
If you have any reference images for what your character may look like, please do attach them or link them in the email! References are greatly appreciated. Also feel free to link your character profile thread, those help a ton with getting a feel for the character I'm drawing!
and never be afraid to ask for specifics or pitch ideas - I am willing to negotiate bigger or more complex pieces.